I was 18 when I first heard "Song Cycle" by Van Dyke Parks and I haven't been able to get it completely out of my head ever since. Its music was lush, swirling, convoluted, by turns lyrical and difficult. Its words were pretty much impenetrable. It was easy to dislike – and yet 45 years later, here I am, still listening to it. In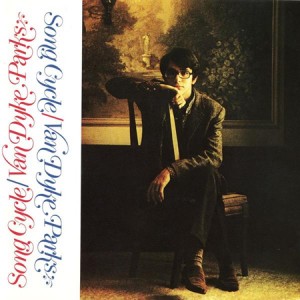 a way, I guess it has haunted me, like the wind blowing through the trees in "Blow Up" or the sound of my mother's voice calling me and my siblings home for supper.
The amazing thing to me is that Parks was only 24 when he made "Song Cycle." He seems to have been from some sort of show biz family. Strangely enough, he played Tommy Manacotti, the kid from upstairs in "The Honeymooners." His brother, Carson, wrote "Somethin' Stupid" for Nancy Sinatra and her dad.
But "Song Cycle" was a real departure. It was full of confidence and nerve and the audacity of youth. It tried dozens of different things, everything, it seemed, that Parks could think of – some were wildly successful, some just went thump, thump, thump. But the overall result, to me, was breathtaking. Or, as the review by Jim Miller in "Rolling Stone" said at the time, "The album is hardly perfect, but familiarity breeds awe at what, for a first album, has been accomplished. "Song Cycle" presents us with the work of a creative genius."  "Palm Desert" from "Song Cycle"
I see that Parks has a new album out. I haven't listened to it yet, but I'm hoping for some kind of bookend to his effort of so long ago. In the meantime, I urge you to give "Song Cycle" a listen, if you can. You probably won't like it, but on the other hand you might get lucky like I did and love it for the rest of your life.