There are neurotics such and you and me and the guy in the back seat of the bus who keeps blowing his nose. And then there are the Great Neurotics. From all walks of life they come, these Great Neurotics, from history and fiction and the entertainment arts they emerge, marching together, out of step, absorbed in their own thoughts, and in the way the breeze plays through their hair.
Here is today's entry in this dubious gallery: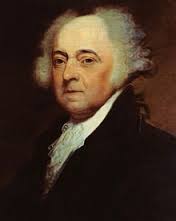 John Adams  "I have had poverty to struggle with; envy, jealousy and malice of enemies to encounter, no friends, or but few, to assist me; so that I have groped in dark obscurity." That was Adams at age 30, not sounding very much like presidential timber and sounding much more like a potential assassin. A neurotic, if able, snob from a New England family steeped in self-abnegation.