Seeing "60 Minutes" apologize to its viewers today for reporting apparent lies as truth in a recent story about Benghazi reminded me of an earlier time when Mike Wallace picked up a phone and apologized to me:
If one thing was true about Mike Wallace, it was that you didn't want to see him standing in your driveway with a camera crew, or even to hear his voice on the other end of the phone.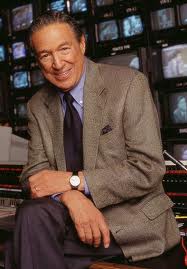 And yet, my one contact with Wallace was the time he called me as editor of Connecticut Magazine to apologize for something he had done to one of our freelance writers.
In 1993, the freelancer, Karon Haller, had written a terrific story on a West Hartford man who, during the act of assisting in the suicide for his ailing father had put a pillow over the old man's face and suffocated him, thus stepping well beyond the normal parameters for an assisted suicide. Wallace and his producers at "60 Minutes" had decided to do a story on the case and on Karon's reporting of it. They'd invited her to come to New York to be interviewed for the program, a request that raised all sorts of red flags for her. She declined. Next, Mike Wallace was on the phone with her, asking if she'd be willing to come down and talk to him in his office, not on camera, so he could have a better understanding of the story. Karon relented and they set up a meeting.
When she arrived at Wallace's CBS office, Karon thought things seemed a little strange. The lighting was very bright and Wallace appeared to be wearing make-up. Still, she didn't see a camera, so she spoke with Wallace and seemed to have given him all he needed.
A couple of days later, media writer Howard Kurtz of The Washington Post called Karon and me to say he had been told a hidden camera, secreted in the curtains, had been used for the interview. Not only that, but others on the "60 Minutes" team, including Morley Safer, had watched the proceedings from an adjoining office. In effect, Wallace had used the same sort of trickery he employed on crooks to get what he wanted out of a person who had done nothing wrong.
Kurtz's story caused a sensation, and eventually that rarest of things, a Wallace apology. And not only that, but an on-the-air apology.
As for his phone call to me, he of course began by challenging the things I had been quoted as saying in the Post's story. But at length he said he was sorry for the way he and his team had treated one of our writers. Sensing that with Wallace on the defensive I was in uncharted territory, I told him not to worry about it and hung up the phone.